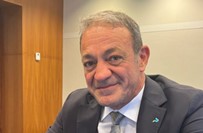 Marios Sentris
Program Director & Practice Lead – Aviation, Parsons
Professional Overview
Marios joined Parsons in 2013 and currently holds the position of Program Director and Aviation Lead for Europe and Middle East. He is described as an inspiring leader in aviation with a successful track record of construction airport projects. He is a strong advocate of collaborative project management that he is always keen to describe in conferences and press releases.
He has more than 25 years of accomplished experience in leading roles and more than 15 years worldwide experience in large scale airport construction and refurbishment programs.
He has been involved in airport projects in Greece, Albania, Jordan, Kuwait, United Arab Emirates, Qatar, Poland, Australia, Kazakhstan and Tunisia.
His expertise cover master planning, design and construction management, program management, operational readiness, due diligence, technical assessment and business feasibility studies.
Education
Marios holds a Master in science and a Bachelor's in business administration from Paris University.